It's already time for the June tree care checklist! Check out what you need to do this month to keep your landscape and trees in tip-top shape.
During the month of June:
~ Continue to plant summer flowering bulbs.
~ Elm leaf beetle 1st generation.
~ Spray for Locust Borer, pesch borer
~ Last month to spray for Mountain Pine Beetle.
~ Enviro-tree fertilization to promote health of tree.
~ Sprinkler tune up.

In addition to these basic steps, here are some more specific things you can do to ensure healthy thriving plants.
GENERAL GARDEN CARE

Apply 1 to 2 inches of leaf mulch on flower beds and around trees, keeping mulch away from the trunks. Mulch conserves moisture, protects plant roots, suppresses weeds, and regulates soil temperature. Make sure all trees, shrubs, perennials, and roses receive 1 inch of water per week. If Mother Nature does not provide this amount, it is best to water deeply once per week rather than water shallowly several times per week.
WOODY PLANT CARE
One application of fertilizer in the spring is usually sufficient for species roses such as Rosa rugosa and shrub roses. All other roses should be given their second application of a well-balanced fertilizer in mid-June or after their initial bloom period.
Monitor roses for black spot and other fungal leaf diseases. Remove infected leaves immediately and begin a preventative spray program with an approved fungicide at labeled intervals. Call Plant Information Service at (847) 835-0972 for effective fungicide recommendations.
Deadhead hybrid tea roses as soon as flowers fade. Many shrub roses are self-cleaning and don't require deadheading. When in doubt, lightly prune old blossoms to keep plant looking attractive.
Pinch off terminal growth buds on rhododendrons to increase next year's buds.
Prune all spring-flowering shrubs, if necessary, immediately after they flower.
Evergreens, such as boxwood or yew, can be lightly pruned after the new growth fills in to maintain a formal shape.
ANNUAL AND PERENNIAL CARE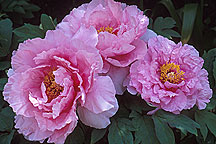 When cutting peony blossoms to bring indoors, remove as few leaves from the plant as possible. Remove spent blooms after they are finished flowering.
Remove spent blooms of annuals and some perennials to encourage new flower formation.
Stake tall perennials and continue to tie annual and perennial vines to supports. Continue to apply repellents to emerging summer-blooming lilies, if rabbits and deer have been a problem in the past.
Fertilize annuals in containers, baskets, and window boxes with a quarter-strength balanced fertilizer every seven to ten days. Always water the plants before adding liquid fertilizer.
Fertilize bulbs with a 9-9-6 slow-release fertilizer if you did not do so at planting time. Mark the spots with small stakes to repeat fertilizer application in the fall (when plants are not visible).
Continue to remove yellowing leaves of summer-flowering bulbs.
Amaryllis plants should be placed in morning sun (preferably outdoors), watered regularly, and fertilized every 2 to 3 weeks with a general purpose, liquid fertilizer.
Tall, floppy plants such as chrysanthemums, asters, and tall sedums can be cut back by as much as half or pinched to regulate their height.
Sow seeds of biennials, such as hollyhock, directly into the garden this month for next year's bloom. Mark the area carefully to avoid accidentally disturbing the seeds.
Monitor plants, especially succulent the new growth, for insects. Infested plants can be hosed down to remove small insect populations. Don't apply chemical treatments if ladybugs or other predator insects are present.
Mite activity often increases in hot, dry weather. Symptoms include stippled foliage which can be removed from plant. Refrain from applying chemical miticides which will also kill beneficial mites and increase mite populations. Consider releasing predators such as ladybugs or praying mantis to consume unwanted mites.
LAWN CARE
Cool-season turfgrass should be mowed to a height of 2 to 3 inches. This height can be raised during hot, dry periods or when turf is stressed due to disease, insects, or drought. A general rule of thumb is not to remove more than one-third of turf at one time.
Seed bare areas of turf with an appropriate grass seed mixture. Keep newly seeded lawns moist until seeds germinate. Do not allow the grass to become overly dry for the first year and limit excessive foot traffic. Begin mowing when the grass reaches a height of approximate 4 inches.
Do not fertilize your lawn in hot weather. The best time to fertilize is fall.
Established turf requires approximately 1 inch of water per week to keep grass green and actively growing. Lawns that are allowed to become dormant and brown usually recover nicely as precipitation increases in the fall. It is best to water early in the day, which will decrease the occurrence of turf disease.
FRUIT AND VEGETABLE GARDENING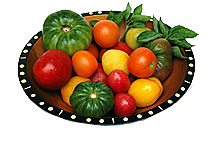 Stake or cage tomatoes and peppers as they continue to grow.
Harvest peas, raspberries, and all cool-season lettuces and vegetables as they ripen.
If squash vine borer has been a problem in your garden, cover small transplants of squash, cucumbers, and zucchini with row covers to prevent moths from laying eggs on vines. Remove row covers when plants begin to flower. Consider planting resistant varieties next year.
Pinch top growth of herbs to encourage branching and keep them from flowering. Snip or cut off sprigs of herbs to use in cooking all season.
A fascinating nature project for families is to plant dill or fennel to attract swallowtail butterflies to lay their eggs. Watch for tiny eggs to develop into plump caterpillars that will feed on the herb foliage before pupating into butterflies.
Plant pumpkins at the first of the month. Large varieties require a 100-day growing season. If you gently carve names in developing pumpkins, the letters will enlarge as pumpkins grow.
Mulch your vegetable garden with straw to retain moisture.
Best wishes for keeping your garden, plants and trees healthy, beautiful and thriving. Should you need assistance with fertilizing, pesticide treatments, or other plant health care, contact
Trees "R" Us, Inc.
We service the North Shore and the Northwest suburbs of Chicago.
Trees "R" Us, Inc.
is a professional tree service specializing in plant health care, general tree care and tree maintenance. Contact
Trees "R" Us, Inc.
at 847-913-9069 or
www.treesrusinc.com
.
Thanks for reading!
Nick